You can Enjoy the benefits of  Unique Trading Experience 2017 UMarkets .
Bonus Link:Forex Deposit-Insurance 2017 – UMarkets
Available till:9th January 2017.
Offer Applicable to: All accounts.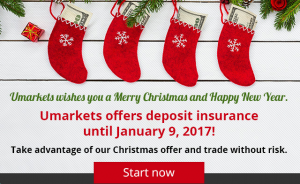 Details:Deposits insurance means that if you lose, you will get them back in the form of a bonus.
How to Apply:
Simply Make a deposit
Request the Bonus.
Cash out: Yes, after volume trading conditions have been met.
Extra conditions: The promotion can be changed at any time without previous notice – UMarkets.